There are many ways to fight Cancer. One is with money and another is with love.
On Friday, November 3rd we will do both. We are having an FU Cancer Ride. We will also have a large board in the studio where you, our riders, can get personal and pin a note– share a story, a name, a memory, or just an FU comment to cancer. Whatever you want. We're calling the board: FU Cancer, We've Got Something To Say.
This particular ride has been 15 months in the making. We are honoring the journey of one of our own team members, Kirsten Ward, as well as others who have suffered from cancer. Kirsten bravely wants to share her story. We want to raise awareness about early detection. We want to raise money for cancer research. And we want to bring our rider community together on an issue that has touched us all on some level. Ride and fundraiser details are at the bottom of this post.
In July 2016 Kirsten found a lump in her breast. She immediately went to see her doctor. Following a biopsy, she was told she had Stage 2 breast cancer. And it was fast growing. She'd had a clean mammogram just 5 months earlier. There were tears, shock and disbelief. Kirsten was given a 13 month treatment plan that included chemo, a double mastectomy, radiation and then more chemo. She would lose her hair. She would be so very sick. She would undergo surgery. But she would obliterate the cancer. Game on. FU Cancer!!
Kirsten was lucky in many ways. She has an amazing positive attitude, with a healthy touch of sarcasm built in. After trying on wigs she said, no thank you, I look like a stripper. So she went bald and proud. Kirsten sent me a picture of herself every Wednesday from her chemo chair. It got real.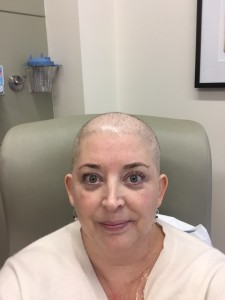 She has the most wonderful, supportive family you could ever dream of. You know them because they ride all the time… shout out to her amazing husband Tom, sister Eileen, and daughters Mariah, Grace and Josie. Our team also sprang into action with a meal train every Wednesday. We take no offense that her favorite meal from us was purchased from Whole Foods 🙂 Ha, apparently we're better on the bike than in the kitchen!
Kirsten has something to say. In her own words…
"Kirsten, you have a cancer in your breast." Those eight words spoken plainly, yet kindly by the nurse who was tasked to make those dreaded phone calls changed my world forever. The days that immediately followed were some of the worst I've ever experienced. My own terror and grief, my three daughters' tears, and my husband's calm fortitude in the face of trying to hold it together for all of us made up those days and nights. We quickly rallied. We gathered information and facts, we spoke to endless doctors, nurses, family members and friends who had been there; we formed a plan.
The weeks and months that followed were a blur of chemo treatments (16 in all), surgery, radiation and now, more chemo. On January 3, 2018 I will have my final chemo treatment and on February 27, 2018 I will have my last surgery to rebuild my new breasts. I AM NOW CANCER FREE!!
CANCER SUCKS, FU CANCER!!! During every week, every treatment, every invasive procedure, these words went though my head. I quickly realized I needed this mantra to keep me strong, keep me fighting. For I was fighting…for my life.
Yes, the last fifteen months have been an ordeal, a horrible time in my life that I want to forget and put behind me. And yet, they have been a wondrous gift. Yes, a gift. The love, care and support I have received from my doctors and nurses, my fabulous husband, daughters, parents (birth and in law), siblings (birth and in-law), extended family, and friends near and far have been nothing short of miraculous. People are good. I always believed it but never have I seen or felt it more than these past months. It gave me a strength I never knew I had. I was, and am, humbled, and will be eternally grateful. Eternally.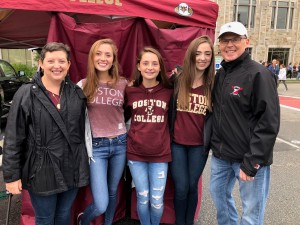 Our dear Kirsten was absent from Cycle Town for a year. But now she's BACK and we couldn't be more thrilled. She's feeling good and she is cancer free. This ride is to honor her and the VERY MANY OTHERS like her. In our community we know many. In your life you surely know many. ALL proceeds will go to Dana Farber Cancer Center at South Shore Hospital in the Cancer Research Fund.
Here's our ask: Come ride with us. It's going to be really, really special. If you can't ride, donate. And buy a pin and put a note on our FU cancer board. (It will be up later this week). We all have friends and family who have been impacted by cancer. There are two ways to fight—with money and love. Do both with us.
Our FU Cancer Ride is Friday, November 3rd @ 6:30pm. It's going to be heartfelt. After party to follow. Ride is free with a donation to Dana Farber. Ride registration and donation information will come out later this week, stay tuned.
The final takeaway (as it relates to breast cancer). Ladies, do regular self-exams. Like right now. It potentially saved Kirsten's life and it can save yours. Also, keep up with your standard screenings like mammograms and doctor's visits. Don't ignore symptoms.