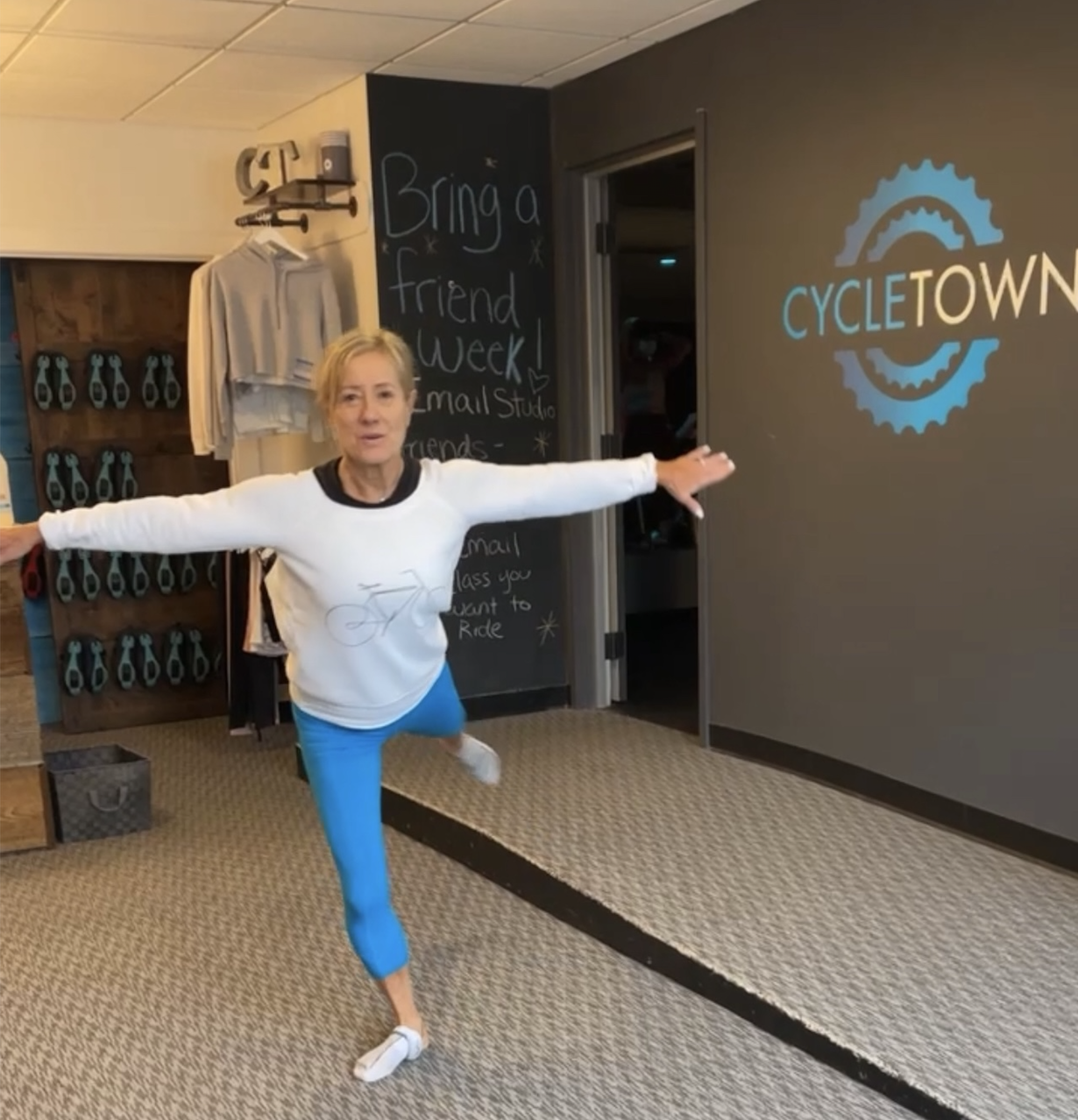 Alice floats in the studio. So maybe it shouldn't have been a surprise to learn that she was an Olympic pairs figure skater. She was the 1976 U.S. silver medalist and placed 12th in the 1976 Olympics in Innsbruck, Austria. Performing at an elite level requires passion, grit and pursuit of excellence. We see these characteristics engrained in Alice today, combined with her kind heart. We love her athleticism and grace in the bike room as she rides strong and shares her positive energy with the Cycle Town Army. Meet Alice!
Tell us about yourself and your interests.
I am a very active person who loves to keep moving!  I have three children ages 30, 29 and 26.  They are my proudest achievements. 
What has been your fitness journey? 
My fitness journey began in my 20's when I was attending Boston College.  I saw my first Boston Marathon and decided to start running. I ran Boston in 1997 when I had 3 kids under the age of 5. The training was the perfect way to get out of the house!
As a former Olympian, what excites you most about skating today? What should we keep an eye out for?
Olympians are "never former, never past" as a quick FYI. Always an Olympian. The skating today is magnificent. The technical level of difficulty is amazing with the first woman landing a quad on Olympic ice. Nathan Chen is awesome with his speed and jumps. Keep an eye out for Russia's Kamila Valieva. At age 15 she is by far the best female skater on the planet, and could go down as the best of all time.
How has your training and experience as an elite athlete shaped the rest of your life?
When I was training for the Olympics our ice time was from midnight to four in the morning.  Pairs don't share practice ice with singles… too dangerous with the lifts and throws. The sacrifices I made in my personal life were very difficult. There were times as a teenager I just wanted to be "normal" like my friends. In the end it was all so worth it.  I am so proud to be an Olympian and it has shaped everything I have done since – in both my personal and professional life.
What inspires you on the bike?
Well, as a figure skater, we all like to perform to music, and I love that part of spin class.  I like to push myself and enjoy the feeling after that final "run."  I am inspired by all the people around me who are giving their all.
Alice and her partner Bill Fauver at the 1976 Olympics in Innsbruck, Austria.