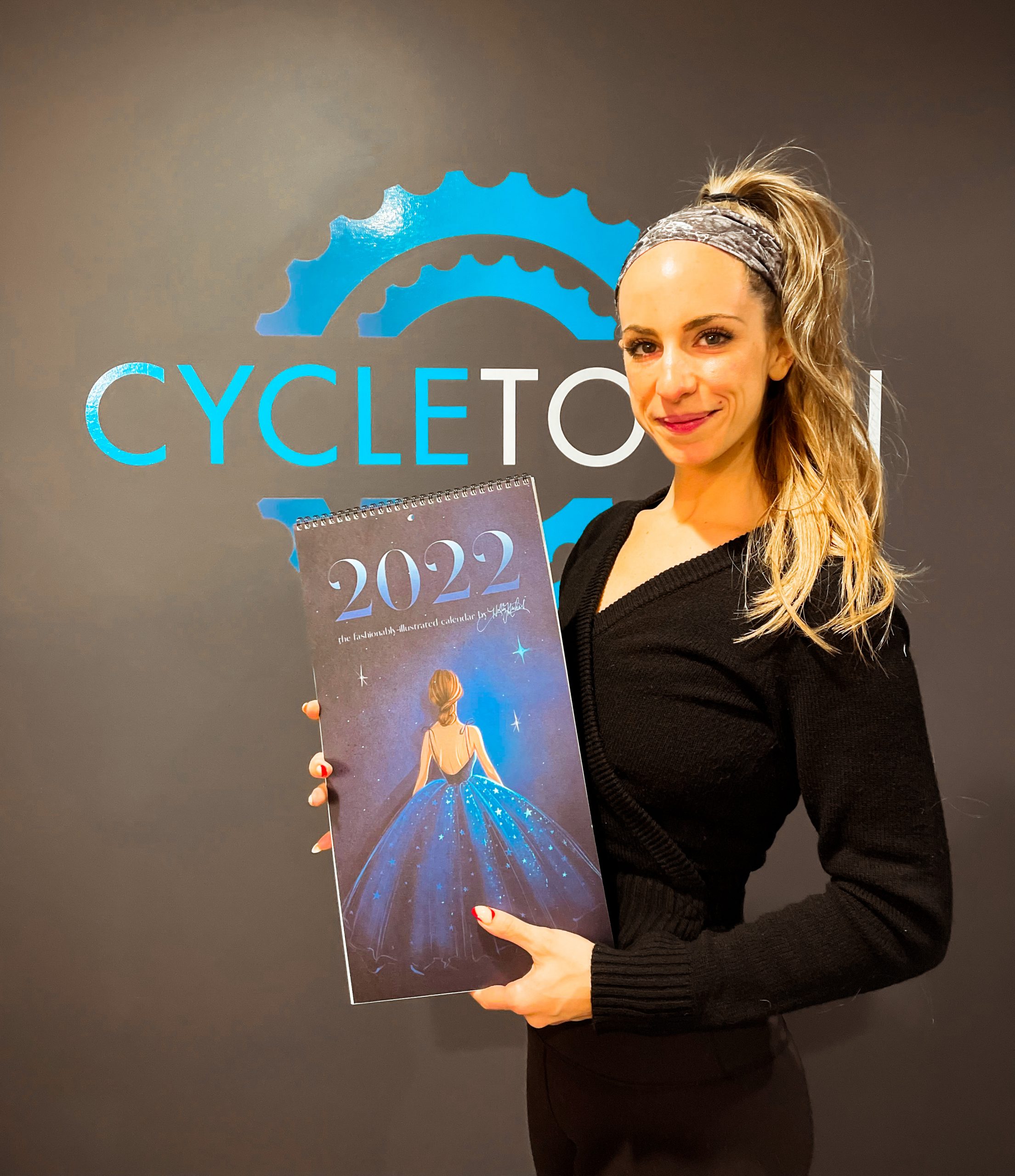 Holly's story ON the bike is one that we're always very proud of. It's her story OFF the bike that has us awe-inspired and dazzled. When Holly first began riding with us, she was low profile and stayed towards the back of the room. She found joy on the bike and over time she grew strong and confident. You will now often see her as our wingman openly sharing her beautiful form and positive energy.
Then a couple years ago we learned of Holly's artistic talent. Holly is a fashion illustrator, entrepreneur, and social media influencer. Her business has sky rocketed and it's been such a pleasure watching her success! Meet Holly Nichols.
Tell us about life off the bike.
Hi! I grew up and currently live in Quincy. I'm a fashion illustrator/business owner (and moonlight as a Pilates instructor)! Shortly after graduating with a degree in Fine Arts in 2013, I followed my dream of becoming an artist full-time and began my business as it's known today, "H. Nichols Illustration". I also play the piano and love to travel.
Tell us what it's like having a social media following of more than 1 million followers and how you manage that.
I am grateful for the platform(s) and opportunities that have come my way. It can be overwhelming so I try not to focus on the numbers, and rather focus on the joy of creating the work– it's incredibly rewarding. I love amplifying and connecting with other artists and business owners on my pages. I believe everyone is an artist, and it's my goal for everyone to see themselves in my work. I just do my best to respond to all the comments!
What's next?
My first book was published with Simon and Schuster last spring, and I'm hopeful that more books are en route. It's been an exciting and different way to share and teach my method of "Modern Fashion Illustration".
What has been your fitness journey? Why do you love riding?
Oh how I adore Cycle Town! The greatest thing I have done for myself on my journey with movement and exercise is give myself permission to rest. I love riding at Cycle Town because I am a former dancer and rhythm junkie, and the ride feels like the most joyful form of movement possible. Every instructor is great, and I'm so lucky to have found a home here.
What inspires you? On and off the bike.
Fashion (although my personal style is quite limited to black leggings, Lol), community, and seeing others discovering their creative potential.
You can learn more about Holly and see her work on her website and Etsy store. Her beautiful 2022 calendar is available for purchase and Holly is giving Cycle Town riders 15% off! Order online and you can pick it up IN THE STUDIO! (And we can probably arrange an autograph 😉). Below is QR link to order and coupon code.
We're big fans of you, Holly! Best of all you're one of the nicest people we know. Thank you for your good vibes on the bike and making this world a more beautiful place with your art.