We are thrilled to kick off our rider spotlights with Ben and Brianne Jarvis. They have a great vibe and have been so supportive of Cycle Town. Ben and Brianne have been riding with us right from the beginning and are now a staple in our front row. Ben has been a 5:30 rooster and a weekend warrior known to shout out in joy and agony when we make him work really hard. Brianne pulled me aside one day after class for a personal lesson to perfect her lunges, which she now slides into like a Rockette. The Jarvis' are crushing it.
Tell us about yourselves… how'd you meet, what are your shared interests, how are you involved in the community?
We met in college at Salve Regina University and have been married for 10 years (living in Hingham for almost 6). We have three little children, a son and two daughters that keep us very active and on our toes. We love being outside and enjoy traveling as a family.
I sit on the board of a nonprofit organization in Boston called Back On My Feet (BOMF) that engages homeless individuals and helps reintegrate them back into society through running. Brianne is very active in PTO for East Elementary School. We are big believers that your community is only as good as what you put into it.
Everyone has a fitness journey, tell us about yours.
Ben: I played sports all my life and have stayed active after college by running. I like trying new things and switching up my routine, hence incorporating spin into the mix.
Brianne: I too played sports all my life (swam, played field hockey, lacrosse and tennis). I continue to stay active by going to The Bar Method and Cycle Town.
What motivates you?
Ben: I am naturally competitive, middle child syndrome I guess.
Brianne: After having 3 children I feel as though being fit and staying active is very important to me.
Why do you come ride at Cycle Town?
Ben: So I can leak out all the alcohol that I drink on the weekends… When you dial it in you can really shed lbs.
Brianne: Because I love it! The music is awesome and it's a great sweat and full cardio workout!
What's your favorite choreography move on the bike?
Ben: Don't really have one, I enjoy burning lungs and pushing to the brink of nausea.
Brianne: Hmmmm, that is hard. I like them all. At first I couldn't do lunges or figure 8's and was all over the place but once you get the hang of it, it's super fun.
What music do you like to ride to?
Ben: Whatever Anne and Toni are playing… Katy Perry, Taylor Swift etc.
Brianne: I just love the fast, loud upbeat music. It definitely motivates you.
Do you have any advice for others looking to get started with indoor cycling?
Ben: Be patient and do not become intimidated, it takes at least 3-4 classes to get the hang of it. Then ride with different instructors to find the ones that work best for you. If you stay disciplined you will see results rather quickly.
Brianne: Yes, I agree with what Ben said. Once you get the hang of it it is such an amazing workout. I came into Cycle Town not sure of what to expect and now I love it and can't get enough of it!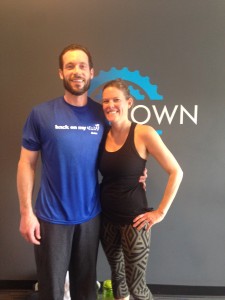 Ben and Brianne after Toni kicked their butts this morning.